The American Society on Aging offers Continuing Education (CE) credits through free webinars and select workshops at our annual conference. CEs are a vital offering from our organization as they provide individuals with the opportunity to continue learning and expanding their skills and knowledge in their respective fields. By completing CEs, individuals can stay up-to-date with the latest industry standards and practices, which can be crucial for career advancement and personal growth. Below, we will outline the process for obtaining CE credits with our organization.
Beginning January 2023, CE applications will be processed through the Slayte platform. This platform will allow you to:  
Instantly download your CE certificate after successfully completing the application.
Access all of your CE certificates in one place at any time.
Receive immediate pass/fail results and complete additional attempts at any time within the 60-day period from the live webinar date.
Note: CE Applications will be available 2 hours after attending the live webinar or viewing the recording.
To guide you through the new CE application process please review the instructional guide and video on this page.
1. From the follow-up email or webinar tab, click on the appropriate link for the desired CE credit. Each webinar will have unique links provided during the webinar and on the follow up email. Links will be presented like this:
National Association of Social Workers CE Application
The State Education Department of NY CE Application
All Other Accreditations CE Application
2. Enter your ASA account username and password and click on the Login button.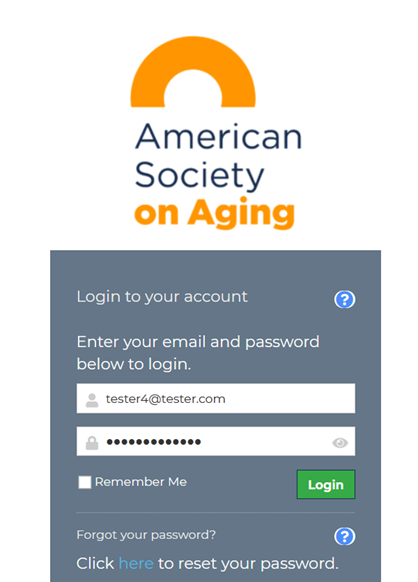 3. Click the Begin Application button.

4. Select the Items to claim and provider from the Credits drop-down list.
CAADAC - California Association of Alcoholism and Drug Abuse Counselors
CA-BRN - The California Board of Registered Nursing
COA - Certificate of Attendance/California Department of Consumer Affairs Professional Fiduciaries Bureau
NCHEC/CHES - National Commission for Health Education Credentialing
NACCM - National Academy of Certified Care Managers
NCCDP/ICCDP - National Council of Certified Dementia Practitioners
NASW - National Association of Social Workers
NYSED - The State Education Department of NY
SCSA - Society of Certified Senior Advisors
5. Fill out the application and post-test (when applicable) and click the Submit Claim button.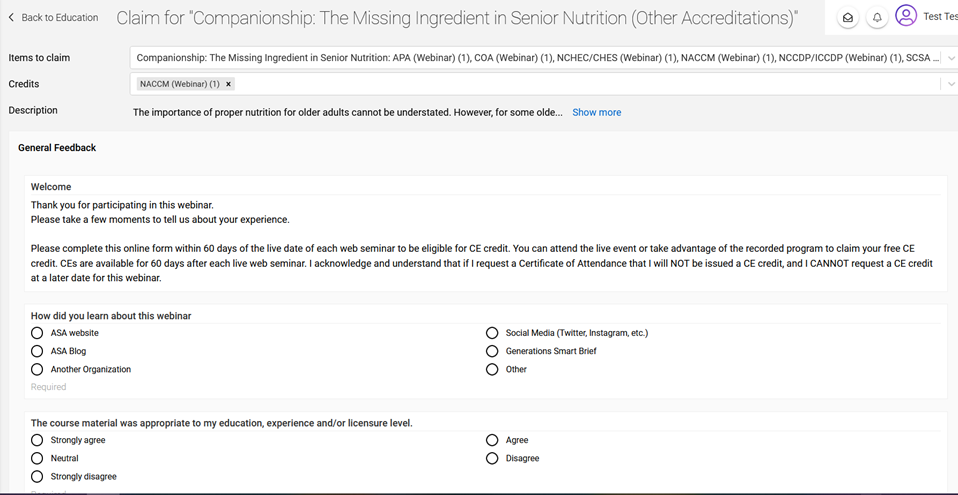 6. If you fail the application post-test, you will see this message, click the Try Again button.
7. Once you have successfully submitted your application, click on Back to Program.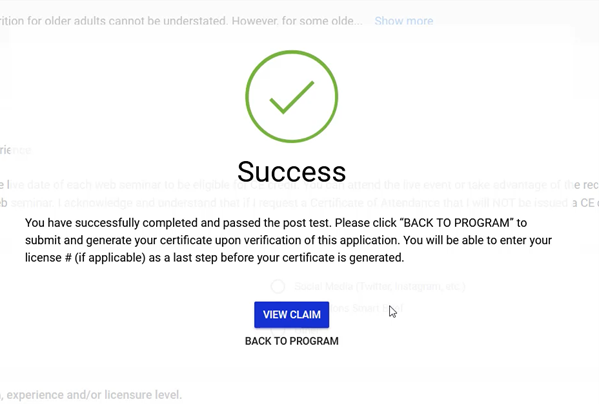 8. To generate your certificate, click on Submit Claimed Items button.

9. Confirm your submission and click on I Confirm, Request Certificate button.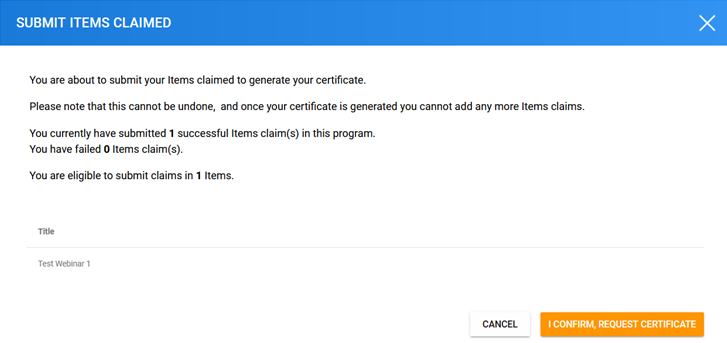 10. You have now successfully requested your certificate; click on View Certificates button.
11. Click on the certificate.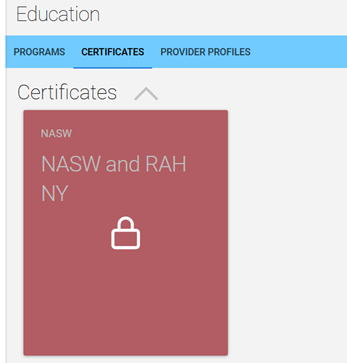 12. If applicable, enter your license and date webinar viewed, and click on the Save button.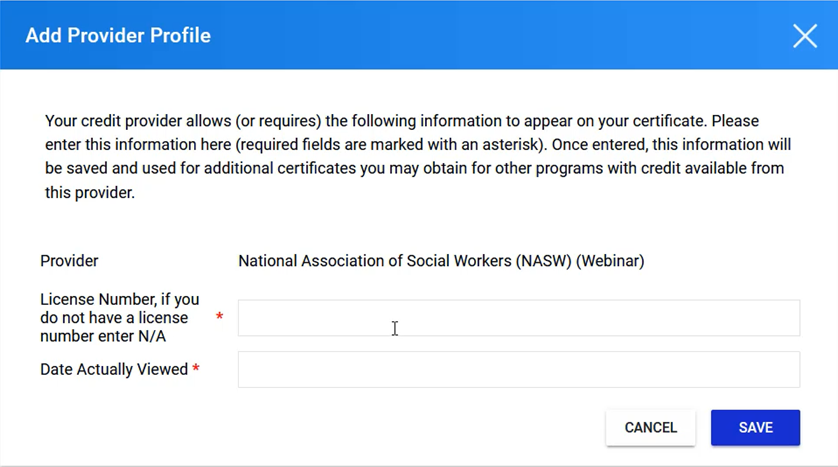 13. You may now download your certificate by clicking on I Confirm, Download Certificate button.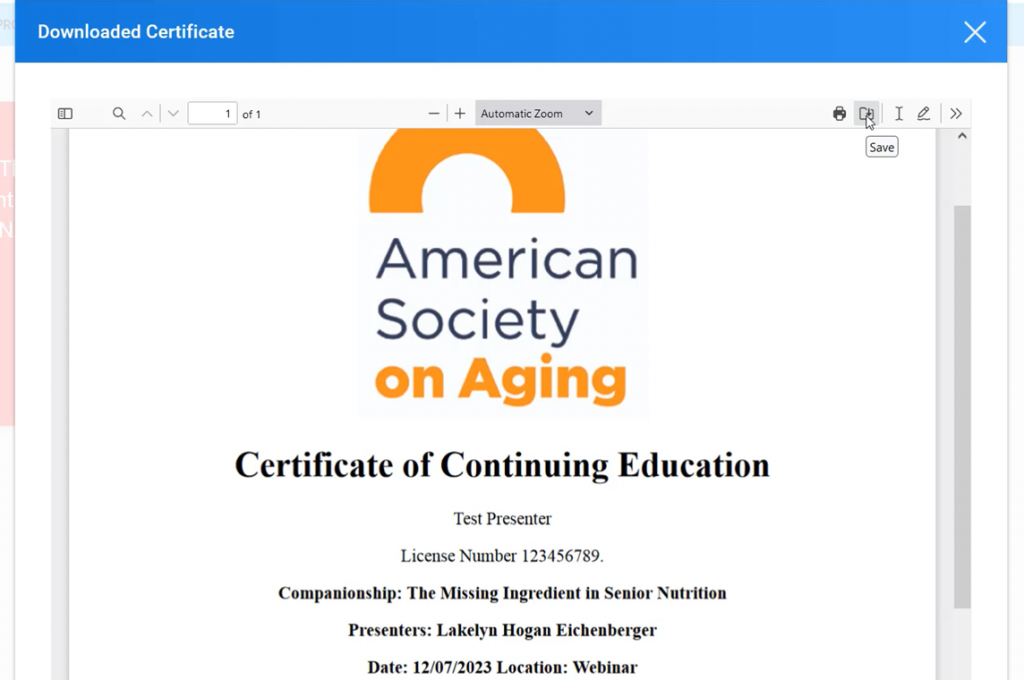 14. Click on the Save icon to download the certificate.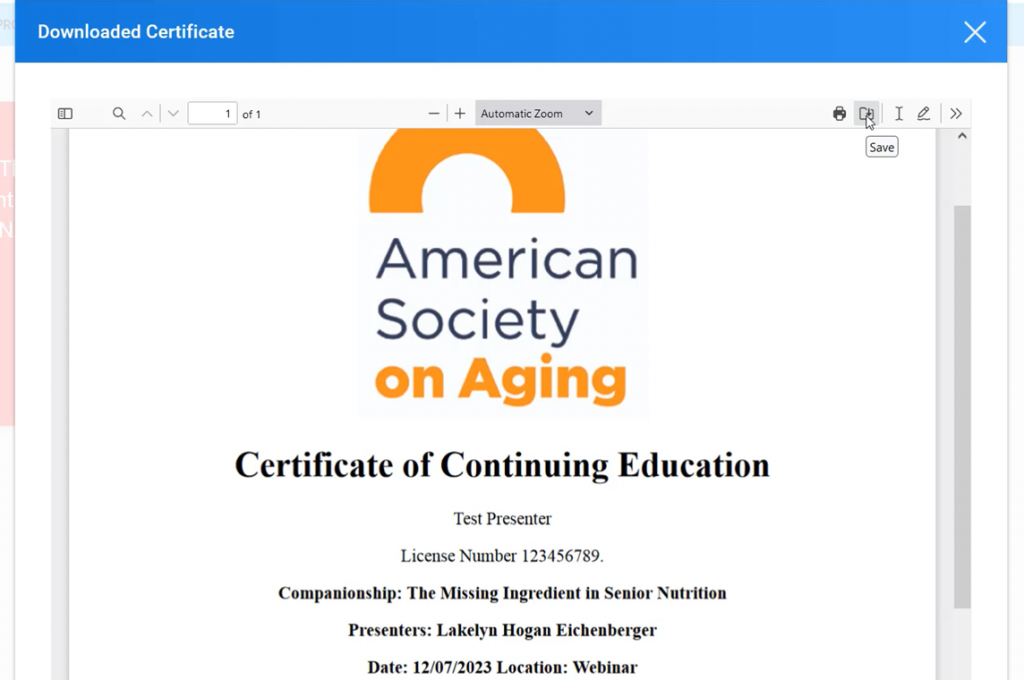 15. You will also receive an email with your certificate attached.