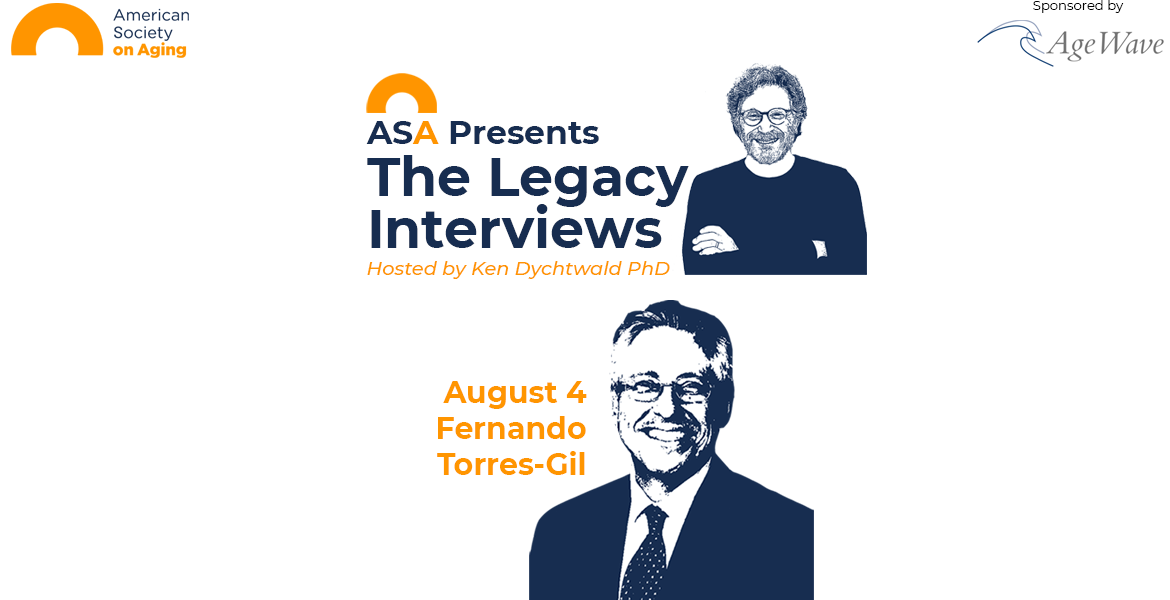 -
(GMT-08:00) Pacific Time
The Legacy Interviews is a weekly webcast hosted by Ken Dychtwald, PhD featuring interviews with diverse legendary pathfinders who have spent decades in the field of aging, health and social services.
Fernando M. Torres-Gil, PhD, MSW, has had a multifaceted career spanning academic, professional and policy arenas. He is a Professor of Social Welfare and Public Policy at UCLA, Director of the UCLA Center for Policy Research on Aging and an Adjunct Professor of Gerontology at USC. He has served as Acting Dean and Associate Dean at the UCLA School of Public Affairs, and Chair of the Social Welfare Department. He has written or co-edited seven books and more than l00 publications. His academic contributions have earned him membership in the prestigious Academies of Public Administration, Gerontology and Social Insurance. Dr. Torres-Gil earned his first presidential appointment in 1978 when President Jimmy Carter appointed him to the Federal Council on Aging. He was selected as a White House Fellow and served under Joseph Califano, then Secretary of the U.S. Department of Health, Education, and Welfare (HEW), and continued as a Special Assistant to the subsequent Secretary of HEW, Patricia Harris. He was appointed (with Senate Confirmation) by President Bill Clinton as the first-ever U.S. Assistant Secretary for Aging in the U.S. Department of Health and Human Services (1993–1996).
Registration is free.