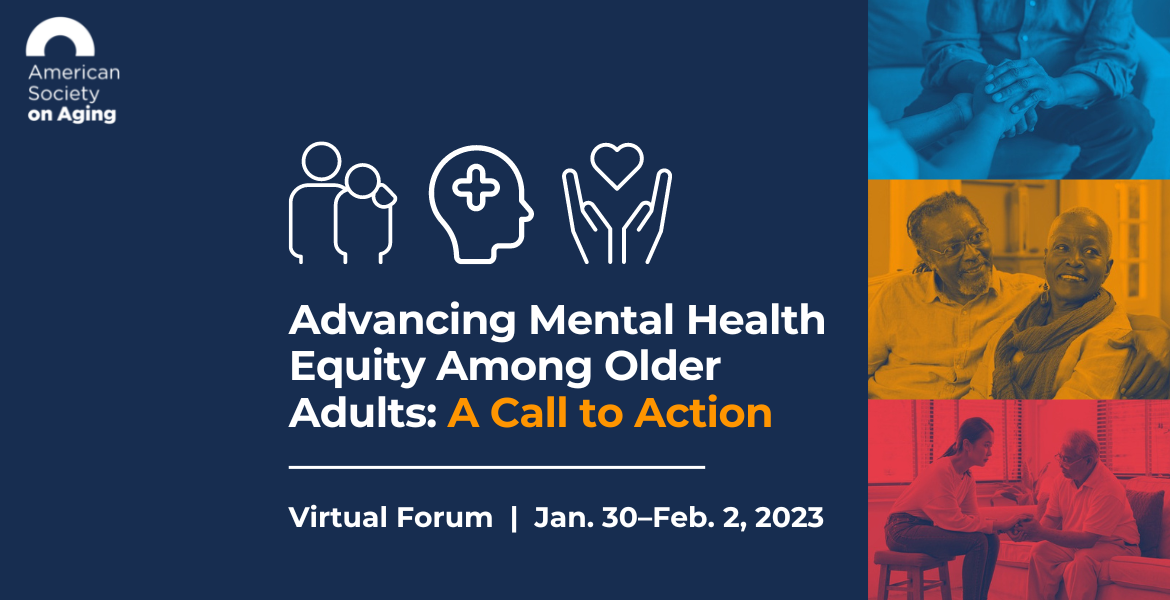 -
(GMT-08:00) Pacific Time
Advancing Mental Health Equity Among Older Adults: A Call to Action
$45 for ASA members
$90 for General Public
Mental health services aimed at older adults must improve. Too many older people are unable to access quality mental health services when and where needed. The lack of mental health services can be devastating—especially for communities of color and those residing in rural areas.
During this Generations Forum, we will bring together advocates, experts and community-based providers to highlight gaps in mental health services for older people, and elevate solutions to fill those gaps, especially when it comes to promoting innovative strategies addressing the very real mental health equity challenges older adults face. All with attention to envisioning equitable and inclusive mental health care that supports well-being and connection to self and community.
AGENDA
Monday, January 30, 12–1:15 PM (Pacific) | 3–4:15 PM (Eastern)
Monday—Let's Get Real About the Mental Health Equity Challenges Older Adults Experience
Tuesday, January 31, 12–1:15 PM (Pacific ) | 3–4:15 PM (Eastern)
Mental Health Experiences of Older BIPOC Adults & the Gender Paradox: What Do We Need to Know?
Wednesday, February 1, 12–1:15 PM (Pacific) | 3–4:15 PM (Eastern)
Suicide and Substance Use and Abuse Challenges in Older Populations: Framing Inclusive Prevention and Intervention Strategies
Thursday, February 2, 12–1:15 PM (Pacific) | 3–4:15 PM (Eastern)
Expanding the Conversation: Virtual Roundtables Gathering Your Thoughts on Key Mental Health Equity Challenges Faced by Older Adults